Accounts Receivable Reports
Accounts Receivable reports, such as Billable Activity, facilitate the operations of your A/R Department.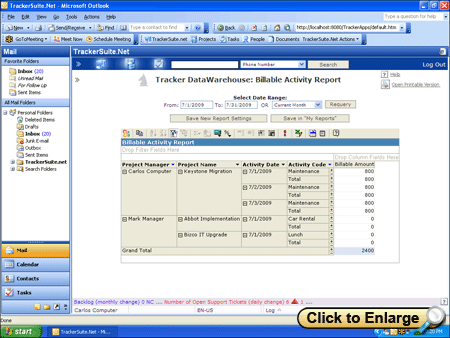 Billable Activity Reports with Outlook
TrackerSuite.Net is a 100% Web based solution that can be surfaced in Microsoft Outlook. It provides an array of business intelligence reports, including Billable Activity, which can be utilized by Accounts Receivable departments in their operations. As well as Billable Activity, TrackerSuite.Net generates other reports including Project Activity Reports, Billable Hours, Time Pies and more. These reports may configured with drag-and-drop fields, filters and pivot tables, and exported to Microsoft Excel.

TrackerSuite.Net does not require Microsoft Exchange. It may hosted in your organization's private Cloud, or delivered as a service from Automation Centre.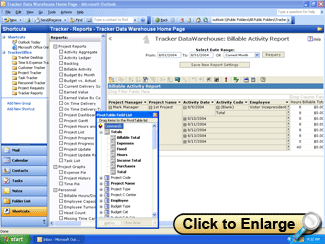 TrackerOffice Data Warehouse simplifies your organization's accounting with billable activity reports like this one. Managers, executives and payroll departments can use these reports to more effectively track and manage their resources.