Project Control with Outlook
Project control with Outlook and TrackerOffice allows project managers to archive, freeze or cancel projects within their email client.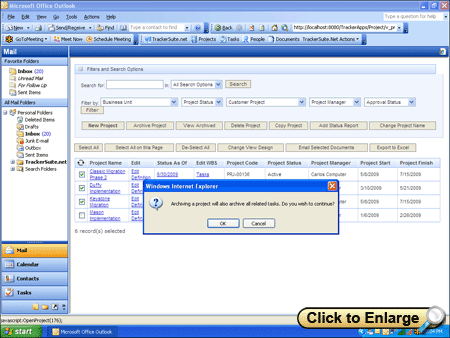 Controlling Projects with Microsoft Outlook
TrackerSuite.Net is a 100% Web based solution that can be surfaced in Microsoft Outlook. It includes project management module in which projects may be red-flagged, placed on hold or archived. TrackerSuite.Net also provides a project request system that leverages Microsoft Outlook.

TrackerSuite.Net does not require Microsoft Exchange. It may hosted in your organization's private Cloud, or delivered as a service from Automation Centre.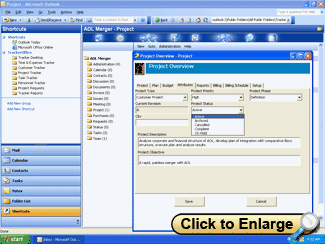 In Project Tracker, using the "Attributes" tab in Project Overview allow managers to directly control the status of projects, including archiving, freezing or cancellation.