Outlook Task List
Outlook task lists, dashboards and calendars simplify the tracking and review of scheduled work for individuals, groups and departments.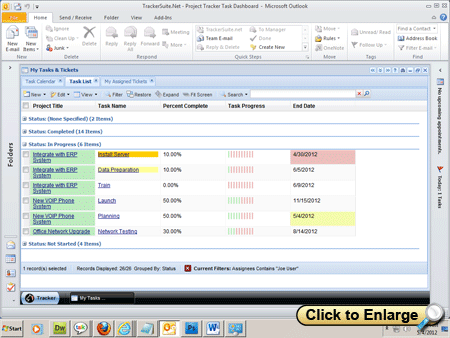 Task Lists in Microsoft Outlook
TrackerSuite.Net is a 100% Web based solution that can be surfaced in Microsoft Outlook. It includes an online project management module that provides a variety of views which users can configure for their task management needs, including creating tasks lists by assignee, status, project, project manager and more.
As well a task lists, TrackerSuite.Net also offers color coded Outlook task calendars which users can filter by project or resources.

TrackerSuite.Net does not require Microsoft Exchange. It may hosted in your organization's private Cloud, or delivered as a service from Automation Centre.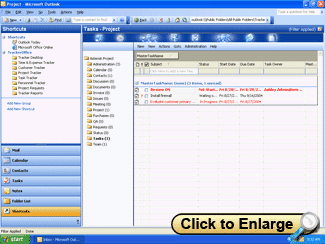 Project Tracker extends Microsoft Outlook's task management capabilities, allowing individuals, groups and departments to quickly review their task assignments.