Outlook Team Task Management
Outlook team task management with TrackerOffice simplifies work scheduling for projects.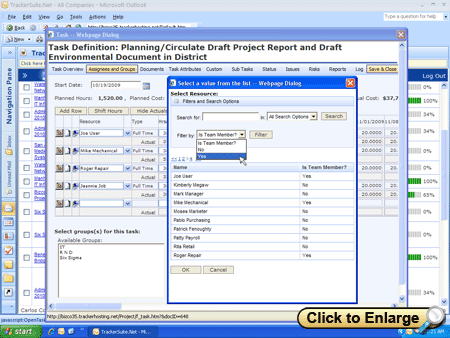 Managing Project Team Tasks with Outlook and TrackerSuite.Net
TrackerSuite.Net is a 100% Web based solution that can be surfaced in Microsoft Outlook. TrackerSuite.Net offers comprehensive task management functions, as well as Outlook resource scheduling tools, which project managers can use to effectively assign work.

TrackerSuite.Net does not require Microsoft Exchange. It may hosted in your organization's private Cloud, or delivered as a service from Automation Centre.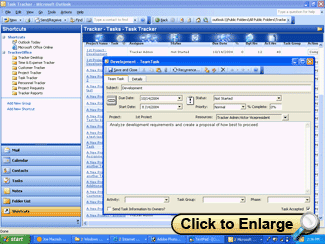 Project Tracker extends the team task management capabilities of Microsoft Outlook. Project managers can easily create tasks which they can assign to team members. Users and managers can track assignments using Outlook task calendars and lists.
In addition to its tools for managing team tasks, TrackerOffice provides several powerful functions for simplifying projects with Outlook. Using TrackerOffice, managers can organize their projects in folders. Project managers and their team members can manage documents and files in a central location, and TrackerOffice simplifies status reporting for projects as well.