Microsoft Workflow Software
A Microsoft workflow software solution, TrackerOffice provides a user desktop interface that simplifies user workflow for projects, time reporting and more.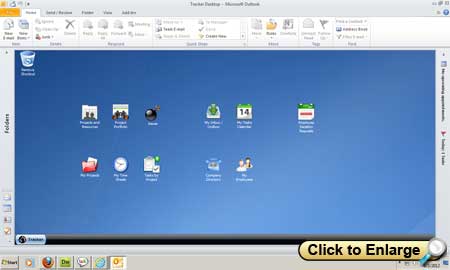 Simplify Workflow with Microsoft Outlook
TrackerSuite.Net is a 100% Web based solution that can be surfaced in Microsoft Outlook. TrackerSuite.Net simplifies user workflow, transforming Microsoft Outlook into a configurable desktop where the user can create his or her own shortcuts and view collections for projects, status reporting, document management, time and expense reporting, purchasing, employee directories, customer files and much, much more.
As well as providing a configurable desktop in Outlook, it offers other Microsoft workflow features as well, such as the ability to create tasks, support tickets and documents by dragging and dropping emails from Outlook into TrackerSuite.Net folders.
It also leverages Outlook to automate processes as well, sending "Auto Nag" email reminders for late timesheets, reminders for status report due dates, notifications of task and ticket assignments, schedule changes and more.


TrackerSuite.Net does not require Microsoft Exchange. It may hosted in your organization's private Cloud, or delivered as a service from Automation Centre.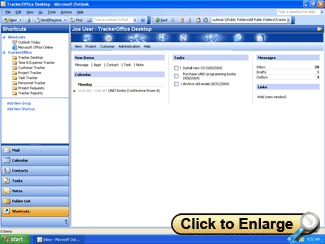 From the TrackerOffice desktop in Microsoft Outlook, user can also access the Outlook collaboration tools they use on a regular basis, including time and expense reporting, project and task management, employee directories and customer files.