Outlook Ticket System
Outlook ticket systems leverage email to simplify and automate support ticket management.

Using TrackerSuite.Net, your organization can leverage its Outlook email platform as a ticket management system, complete with easy to use support tickets, functions for ticket aging and escalation, help desk dashboards and performance reports.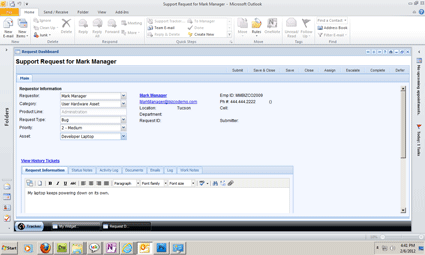 Utilizing Outlook as a help desk ticket system offers advantages for general users, support departments and IT administrators in simplifying workflow, accelerating issue resolution, and tracking performance.
For General Users
Users can submit a support ticket at any time, from any location.
Support Tracker.Net provides easy-to-use support request forms, with pick lists and drop-down menus that simplify ticket creation.
Users can track the status of their ticket and read updates on its progress.
On the completion of the ticket, its requestor is automatically notified via email, along with notes on its closure from the assigned support staff.
For Support Departments
Tickets are automatically routed based on category, request type and priority, greatly simplifying compliance with Service Level Agreements (SLAs).
Support departments can establish email accounts in Support Tracker.Net. Messages received at these addresses are automatically converted into tickets and routed appropriately.
Support Tracker.Net provides configurable, color-coded help desk dashboards. Support department managers can easily filter and drill down on high priority issues, or tickets that have spent too long in the system.
For IT Administrators
Support Tracker.Net provides reports that simplify the review of the ticket system's performance, including Support Ticket Pies and Open / Closed / Escalated ticket reports.