Accounting CRM Software
How accounting CRM software, surfaced in Microsoft Outlook, simplifies customer billing for Boris Beancounter.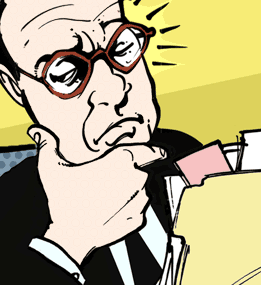 "Money's a horrid thing to follow, but a lovely thing to meet."

- Henry James
As Bizco's head controller, I'm responsible for maintaining its billing processes and keeping the executives informed of where we stand and where we're heading. I need accounting CRM software that:
Allows me easy, secure access to our customer files, so that when I have to discuss a billing with a customer I can answer all their questions.
Provides a high-level view of our ongoing projects and their ever-shifting requirements and deadlines, to ensure our billing is fair and accurate.
Secures approval routing of expense reports, time cards and purchase requests so I don't want have to chase down employees to double-check everything.
Crunches our disparate business data into detailed reports, so that I can keep our executives and project managers informed of where our business is headed.
Fortunately, TrackerOffice, an accounting CRM software solution which leverages the Microsoft Outlook / Exchange messaging platform, provides all those functions and quite a few more, such as its ability to track time that can be capitalized, which helps us keep a paper trail of time spent in R&D.
Customer Tracker - Having all of our customer data in one location makes life much easier for everyone. Not only are all contacts, names, and addresses in one place, but this CRM database also stores all of our clients account codes and billing data.
Project Tracker - Tracker creates billable line items based on projects and tasks that are profiled in Project Tracker. By accessing this database, I can quickly view account codes along with the status of the various items that I'm billing out to clients. This way, I can be sure that my billing information is always valid and correct for proper accounting.
Reporting - You can't beat having all of your financial information automatically in place by line item. Every expense and every hour billed is tallied into this database, where I am able to review the data in many useful formats which are organized based upon different variables. From total cash flow down through line item specifics, Data Warehouse lets me keep my finger on the financial pulse of my organization. I process any billing items to our external billing system and send invoices to clients. I also use it to review all of our cost reports for completeness and compare them to our client contracts and purchase orders.
Purchase Tracker - Like the Time and Expense Trackers, the online forms in Purchase Tracker make it easy for our employees to fill out and process purchase requests. In addition, I can sort all of the requests by vendor, originator of the purchase request, delivery date, etc. This makes it easy for me to track how much we're spending and what we're spending it on.
Time Tracker / Expense Tracker - These modules make it easy for employees to fill out and submit time cards and expense reports. Thus, the data I receive is consistent and easy to process. I no longer have to track people down asking: 'What did you mean by this?'
Simplifying Accounting and CRM with Outlook and TrackerSuite.Net
"TrackerSuite.Net, a 100% Web based collaboration suite that I can surface in Microsoft Outlook, simplifies my work by providing tools such as adminstration dashboards for our time, purchasing and invoicing processes, which I use at-a-glance reviews of all the items in the system and their approval status. It also includes an easy to use, searchable CRM database that simplifies communications as well as contract review and management."
- Boris Beancounter